~*~ BJ ~*~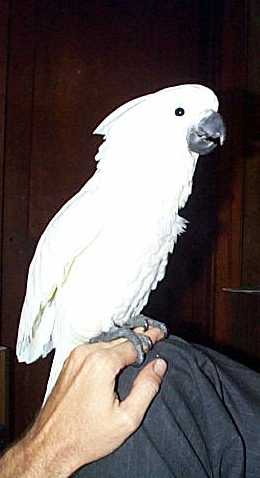 Hello and Welcome to my page my name is B.J. and I am my Mama's Baby. My Mama named me after my oldest sister Bambi, I never got to meet her though, and my Nanny's middle name Jo. My name is really Bambi Jo but everybody calls me B.J. and I like that.
Once upon a time my Mama was very sick and depressed and she was told in a dream to seek me out that I would help her to get better. She began to search for me right away and when she found me I was just an egg, but she adopted me anyway :o)
She called every week to check on me and finally one day when she called she was told that I had hatched! I made my grand entrance on 06-08-99 and Mama couldn't have been happier. She had to wait until I got my eyes open to bring me home though and this was a long hard wait for her but finally the long awaited day arrived.
I was two weeks old by this time and when Mama looked over into the nursery of babies she spied me right away and it was LOVE at first sight. I picked up my little head still a bit wobbly and looked at her too and immediately she picked me up and cradled me to her. I liked that and I still like it very much, cluck cluck.
On the way home we stopped by Nanny's house and I was introduced to the family. Up until this time my Nanny had no idea that part of my name came from her's. When we got home Mama had alreay made me a bed of soft shaving with a nice soft washcloth in which to lay my head on right beside where she lay at night. She checked on me every time I moved and even gave me cover when she thought I needed it. She would hold me close to her and gently rub my skin and talk real soft to me and was very attentive to all my needs.
She took me everywhere she went too! I heard her say once "If BJ can't go then I won't go" and she meant it. I have been shopping in Wal-Marts with her, I have went to the doctor's with her, grocery shopping and just went along on car rides. I like riding in the car I like to stand in front of the vents with my wings spread wide, it's the only way to fly cluck cluck.
My Mama is very nice and gives me almost everyting I want, almost. She shares her dinner plate with me as long as I stay on my side, (* Update: B.J. now gets his very own little plate and he eats with the rest of us :o) but he still likes Mom and Dad's plate better) and she buys me lots of toys. I just recently celebrated my first birthday and I got THREE toys! and even got to chew on the boxes some, cluck cluck. The best thing about Mama is, she has never put me in a cage, NEVER! I can go where I want and when I want but that is usually just back and forth between Mom's and Dad's laps, and occasionally to my brother's Adam and Jordan especially when they have the toys out.
I like playing with my brother's, they have a lot of interesting toys but I like their legos and their cars the best. I try my best to sneak into their room where all the toys are but I always get caught. I get a kick out of teasing my sister Machelle too. I like to chase her toes, she has funny colors on the ends of her toes and I like to try and play with them. I like to pull her hair too, she puts all kinds of funny things in it but I can usually get them out for her, cluck cluck. I am also extrememly good at taking her and Mama's earrings out of them.
Most every evening me and Mama go outside and she is always there to protect me from those vicious butterflys, bugs and birds that are out there, they scare me cluck cluck. She lets me play in the grass and shows me pretty things to look at.
Mama says I am real smart for as young as I am and she always tells me how pretty I am. She still holds me close and pets me and talks softly to me as I cuddle with her. She has a lot of patience with me too because the second she turns her back I prowl through everything in sight. She always turns back around though and catches me right in the middle of something real intersting. How do Mother's know? cluck cluck. She doesn't even get mad when I chew on the couch, but she always tells me no, I don't like that to much but I try to listen to her, I try.
Mama's dream was right she feels a lot better and she can sleep a little bit now. I am turning my eye towards Daddy now, because he lets me have bologna and lets me taste of his sodas. These are two things Mama won't let me have but I will always love my Mama 'Too. Mama's feelings were kinda hurt when I took up with Daddy so to help smooth her feelings I decided my first word would be "MAMA" cluck cluck.
Take a bow B.J.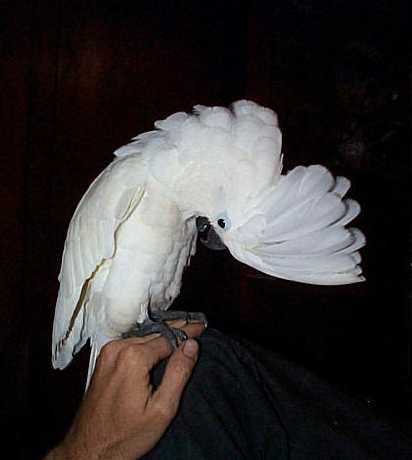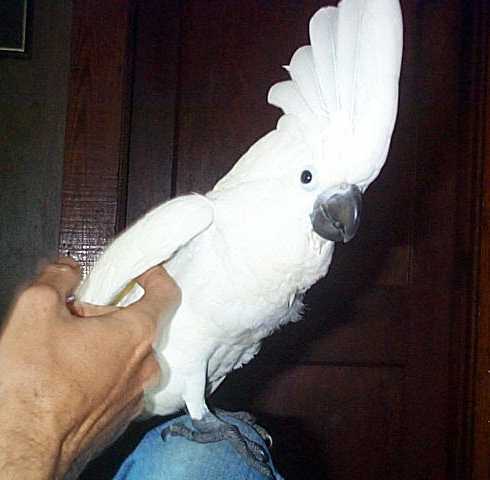 From B.J.'s Mom
I have found and joined the neatest group that deals with "Clicker Training" Birds. It has really worked out great! but of course B.J. is an exceptional baby :o) He learns tricks quicker than I can think of more to teach him. B.J. Loves this new game and wants to play it all the time!


But seriously if you have a bird companion or know someone who does this site is definitely worth your time to take a look at. They have a members group where you can get great advice on just about anything bird realted. Be sure to bookmark us though so you can find your way back :o)


Here is a link to their site Bird Click


Give it a try, it works :o) it works on animals besides birds too.










or use the links below
| Home |
Machelle |
Adam |
Jordan |
Memorial For Bambi |
About Me |
| Our Home Town |
My Bird Page |
Crochet |
Tatting |
Awards |
| American Pride |
Web Rings |
Favorite Links |
Pow/MIA |
| One Poem |
Banner Exchange |
Last Update 09-26-00