Banner Exchange
Here is my banner. Just right click and "Save As"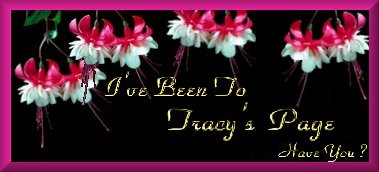 This is the URL I would like you to use.
http://olefriend.tripod.com/TracysPage.html
I have just added this page so I don't have any banners to display yet but hopefully that will all change soon :o)
Just e-mail me with your banner and link and we'll get it on here for ya.
Oh Yeah... Please put "Banner Exchange" in the subject box. Or just use the
e-mail link below and it will already be filled in for you.
E-mail Tracy

or use the links below to navigate the rest of my site
| Home |
Machelle |
Adam |
Jordan |
Memorial For Bambi |
| About Me |
Our Home Town |
My Bird Page |
Crochet |
Tatting |
| American Pride |
Web Rings |
Favorite Links |
Pow/MIA |
| One Poem |
Created 09-02-00
Last Update 09-26-00